By Robert Fichter, JET IP
With 3,869,000 million Euros in 2022, Germany has the highest gross domestic product within Europe, followed by the UK and France with 2,904,089 and 2,639,092 million Euros, respectively. Germany has a well-established intellectual property system which grants protection not only for technical inventions and trademarks but also for industrial designs.
According to the German Patent and Trademark Office (DPMA – GPTO), around 33,600 designs have been filed in 2022, with a total of 260,387 designs in force by the end of 2022. Most designs are registered for furniture (class 6) and articles of clothing (class 2), followed by graphical symbols and logos (class 32) and lighting devices (class 26).
In this article, we'll look into the requirements, procedures, and specialties of the design registration procedure in Germany, giving you a comprehensive guide to safeguarding your product's appearance in this important European market.
Contents
1. What can be registered as a design in Germany?
2. The process of design registration in Germany
3. Novelty requirements for German designs
4. Documents required for registering a design in Germany
5. The design cancellation process in Germany
6. Most pertinent costs related to designs in Germany
1. What can be registered as a design in Germany?
Generally, design protection is available for the two- or three-dimensional appearance of an entire product or a part of a product. Products can be any items from typographic faces, over packaging, to the whole article and include as well graphic symbols. The latter makes design protection particularly interesting for the protection of digital user interfaces or for digital artwork. Designs can be in color or black & white/greyscale.
Not protectable are product features derived exclusively from their technical function as well as so-called "must-fit" features, that is interfaces between different products that have to fit together, such as the interface between a plug and an adapter. Further excluded are designs violating good morals in a sense that the design application violates human dignity, as well as state emblems and other state symbols.
Each design must be novel and have distinctive character. In other words, no other identical or essentially identical design has been published, exhibited, or put on the market before the filing (priority) date of the application, and the overall impression created by the design for the so-called "informed user" differs from that of existing designs.
2. The process of design registration in Germany
The application process is straightforward and can be executed online. After application the design is examined for formalities, but not for novelty or distinctive character. Registration occurs after successful formal examination within a couple of months.
The publication of the design can be deferred by 30 months if requested in the application step. Also check benefits of a utility model registration in Germany.
Germany allows so-called collective design applications. Up to 100 different designs can be combined into a single application. At a later stage, collective applications can be divided if need would be.
Protection commences with the registration of the design in the register. The maximum lifetime is 25 years as of application date. Renewal fees are applicable for the 6th to 10th, 11th to 15th, 16th to 20th, and 21st to 25th year. In case of a collective design, the owner can decide to renew only selected designs. Be aware to indicate which designs shall be renewed, otherwise the office will simply consider the x paid renewal fees for the 1st to xth design of the collection.
3. Novelty requirements for German designs
A novelty grace period of 12 months is available if the prior publication has been affected by the applicant or his successor in law, or in case of unlawful acts against the designer or his successor in law.
According to the German Design Act, a design is considered novel if no identical design has been revealed before the registration date. Designs are considered identical if their characteristics differ only in insignificant details.
4. Documents required for the registration of a design in Germany
The application documents must comprise the request for design registration itself, information about the applicant, and a representation of the design with up to 10 views. Further, one must indicate the products applicable to the design according to the Locarno classification.
Optionally, a description of the design can be filed along with its representation. The description shall merely discuss what is visible on the design representation(s).
No Power of attorney is required.
5. The design cancellation process in Germany
Designs can be cancelled through a procedure at the GPTO, or as a counterclaim in infringement proceedings before the civil courts.
The cancellation request can be based on absolute and relative grounds, absolute grounds including lack of novelty or distinctive character, exclusive technical conditionality, connecting elements that are necessary to precisely fit for the functional fulfillment of two products (must-fit), and violation of public order or good morals. Relative grounds comprise copyrights, older registered designs, older marks and other older signs with distinctiveness.
Once the request has been filed and the official fee paid, the request is served to the owner. The owner has one month to object to the request. Failure to do so results in cancellation of the design without examination by the office. If formal objection is filed in time (substantive arguments can be filed at a later stage) the adverse procedure commences. Oral hearings are optional. The decision made by the Germany Patent and Trademark Office can be appealed to the Federal Patent Court.
Usually, costs must be borne by the losing party (partially or in full). However, the party having requested cancellation has to bear all costs of the procedure if the owner has not given rise to the cancellation request. Thus, it is strongly advised to ask the owner of the design, prior to filing a cancellation request, to voluntarily agree to the cancellation of the design.
6. Most pertinent costs related to designs in Germany (as per publication date of this article)
Application:
| | |
| --- | --- |
| Official filing fees for a single application | €60 (€70 if filed on paper) |
| Official filing fees for a collective application | €6 per design, minimum €60 (€7/€70 if filed on paper) |
Renewal (per design; also when included in a collective design):
| | |
| --- | --- |
| Official renewal fees for years 6 to 10 | €90 |
| Official renewal fees for years 11 to 15 | €120 |
| Official renewal fees for years 16 to 20 | €150 |
| Official renewal fees for years 21 to 25 | €180 |
| | |
| --- | --- |
| Official fees for request for cancellation | €300 |
The cost of a design registration in Germany through the iPNOTE platform starts as low as $332, which includes all government fees and document preparation. Find the best IP attorney in Germany on iPNOTE.
7. A practical example
Designs can be very helpful instruments for artists, for example digital artists publishing in Web3.0 environments. NFTs (nun-fungible tokens), recorded in blockchains, can certify ownership and authenticity of digital artwork. However, as long as the related metadata including the reference of the file isn't hardened (frozen), which usually happens with the first sale (transfer), it could be difficult to prove ownership. Also, courts are still reluctant, yet inexperienced in accepting WEB3.0-related proof in infringement proceedings. Artists are thus strongly advised to seek established means of protection and proof, such as filing a design application.
To better understand Web3.0, NFTs, and related technologies, the author himself went through the process of designing chemistry-related images, offering these for sale at the OpenSea.io platform, and protecting the images as German designs.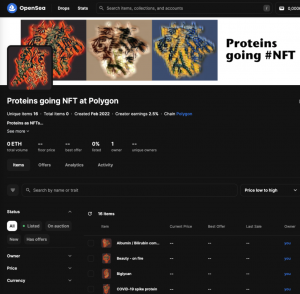 At the end of the day, "NFTs" in the sense this expression is widely used by artists, are image files available on Web3.0 platforms for display on computer screens.
To register these as designs, the relevant Locarno classifications and products need to be determined: For the author's designs filed in March 2022 Locarno (version 13) classes 14-04 (screen displays and icons) and 32-00 (graphic symbols and logos) have been chosen. In the latest Locarno version 14, the latter would be 32-01.
The products chosen for the designs are graphic symbols for screen display; graphics; and graphic symbols.
10 different images have been filed online under a single design file number as a collective design covering these 10 images for only 60€ official fees: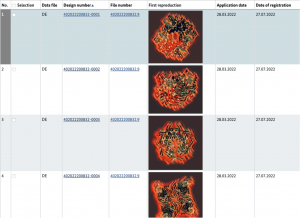 Each individual design has a design number comprising the File number (402022200832) followed by a serial number (0001 to 0010): 402022200832-0001, 402022200832-0002, etc.
The word "NFT" doesn't occur anywhere in the design application. The reason is that "NFT" would be an indication of purpose, i.e., graphical symbols for use in a blockchain. Indications of use or purpose are not allowed in design applications. Only the products as such may be mentioned.
When renewing the designs, care must be taken to either pay 10 renewal fees or to clearly indicate which of the designs shall be maintained (any of 0001-0010).
***
The iPNOTE platform features more than 700 IP law firms that cover more than 150 countries, so you can always find the right direct service provider using our flexible filtering system.
Need help with IP services in Germany? Contact JET IP now via iPNOTE to learn more and get started.
Sign up for free, and we'll help you solve any IP-related problem.